Sanifount:
Sancab: wet and dry sanitary cubicles
Sanset: stainless steel and white synthetic marble sanitary ware
Santronic: taps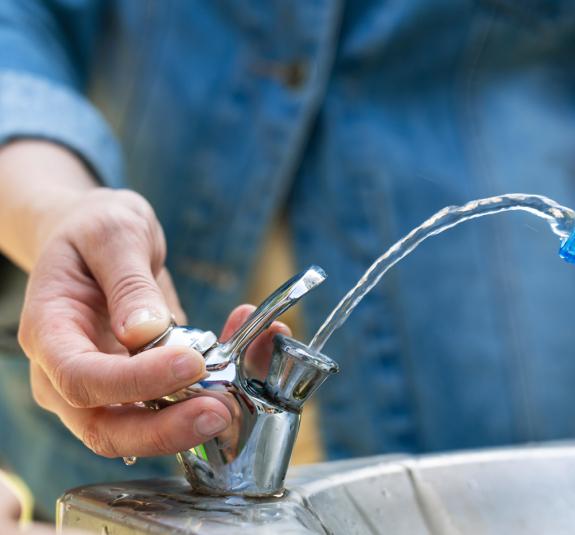 Sancab
Dry or wet cubicles, single or combined, constitute the Sancab collection. It consists of shower and toilet cubicles with or without changing cubicles, which are easy and quick to install. You do not have to build or make alterations because the drain and syphon are integrated. The seamless shower tub consists of a single piece, a guarantee of watertightness. 
The possibilities of Sancab
Thermotub: a self-supporting shower cubicle made of aluminium with a white epoxy coating. Available with curtains or doors.
Sancab: vandal-resistant toilet area made of chipboard or solid-core with WC, urinal and changing cubicle. You choose the orientation yourself. Also available in a modified version for wheelchair users.
Thermocab: the combination of the Thermotub shower cubicle with the Sancab changing cubicle.
Sanset
In the Sanset series you will find washbasins, drinking fountains, urinals and floor-standing or wall-hung toilets. Here too, hygiene is paramount. The communal urinal has an electronic flushing system and up to five stations are possible. The washbasin systems are made of warm-feel synthetic granite and marble (solid surface) for a sturdy, durable look that drains water and dirt quickly. The electronic detection system enables hands-free operation. There is room for up to four users.
Santronic
With the Santronic collection, we give every sanitary installation the finishing touch. You can choose from ceramic taps, single mixer taps, double mixer taps and taps with elbow control. 
Download the Sanifount catalogue
Intersan is ready to answer all your questions. We will gladly share additional information, come by without obligation or send you a catalogue.
 
You can of course always contact us by phone on +32 (0)9 333 83 83